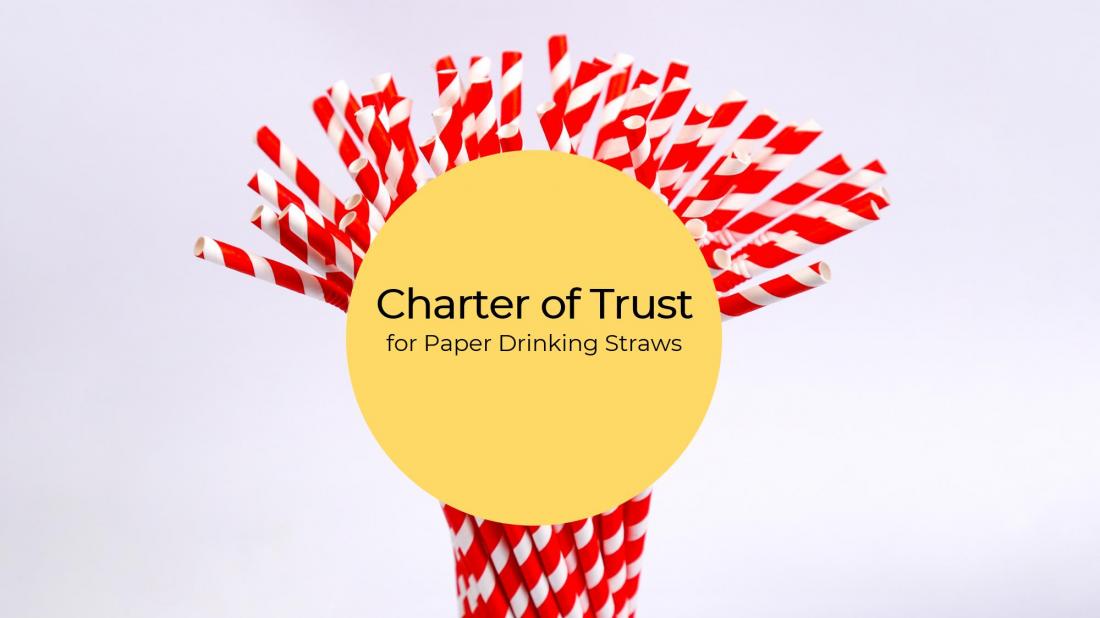 New initiative to promote compliant paper drinking straws on European markets
Brussels, 13 April 2021
: A new quality initiative for paper drinking straws has just been launched by the European industry body
360° Foodservice
. The initiative aims to ensure and promote compliant, safe paper drinking straws across Europe. It is the brainchild of the leading European paper drinking straw manufacturers and their supply chain partners.
The modern paper drinking straw is a new highly engineered product that has become increasingly popular as a replacement for plastic straws, which are going to be banned in the EU, the UK and other countries as of July 2021. To support this transition, 15 companies within 360° Foodservice have developed the
Charter of Trust for Paper Drinking Straws
, an initiative to inform the marketplace and help it make safe, sustainable choices.
"We need to be clear to anyone who wants to trade with the EU – to anyone who wants to put their products on our European market – we must be clear that they too must meet the same legally-binding product requirements that we impose on our own companies,"
said Anna-Michelle Asimakopoulou, MEP and Vice-Chair of the European Parliament's International Trade Committee during an event to launch the initiative.
"This is crucial when it comes to measures designed to protect consumers from risks to health and safety."
The
Charter of Trust
aims to promote companies and products that put
compliance and safety first
. Work to develop this initiative was started two years ago when it became apparent that some products circulating on the EU market do not always comply with European legislation aimed at protecting consumers.
Small and middle-sized distributors and retailers do not always have the capacity to take informed decisions about the quality of the paper drinking straws they are buying. Similarly, national competent authorities for customs and market surveillance often lack the knowledge and resources to check the compliance of imports and products already on the market. The
Charter of Trust
intends to fill that information gap to help identify compliant, safe products.
"Our goal in 360° Foodservice is to lead the responsible and sustainable evolution of the packaging and related items – like drinking straws – that are used every day to safely serve food and drinks to millions of European consumers,"
says Anne Sutton of Dart Products Europe and president of 360 Foodservice.
Companies signing up to the
Charter of Trust
commit to comply with all EU requirements on materials in contact with foodstuffs. Soon, an internationally registered Trustmark will be unveiled, that will make it easier for businesses in the food service supply chain to identify products supplied by companies that commit to comply in full with the law. It will be backed by business-to-business communication campaigns and information programmes to national regulators, market surveillance services and control authorities, as well as to relevant EU bodies.
Ms. Asimakopoulou added:
"I want to congratulate 360° Foodservice for creating the Charter of Trust for Paper Drinking Straws. This shows initiative, it shows dedication to high quality and it shows, above all, respect for the European consumer. We need all of these things in Europe today."
About 360° Foodservice
360° Foodservice is a newly configured association which was formerly known as Pack2Go Europe. 360° Foodservice is the material-neutral collaborative hub for the whole foodservice chain to lead the responsible and sustainable evolution of packaging and related items used for serving food and drinks in Europe.
Founder companies
The following leading companies in the paper drinking straw supply chain within 360° Foodservice are founders of the Charter of Trust:

Paper Straw Makers: MatrixPack, Soyez Frères, Tembo, The Paper Straw Company, Transcend Packaging

Distributors: Paardekooper Group

Suppliers: Clariana/Miguel y Costas, Delfort, Drewsen (Paper); Eukalin, HB Fuller, Henkel (Adhesives); Colorcon (Inks); Eberlé, Hauni, Tembo Paper (Specialist machinery)
Note for Editors
Additional background information is available at
www.qualitystraws.eu